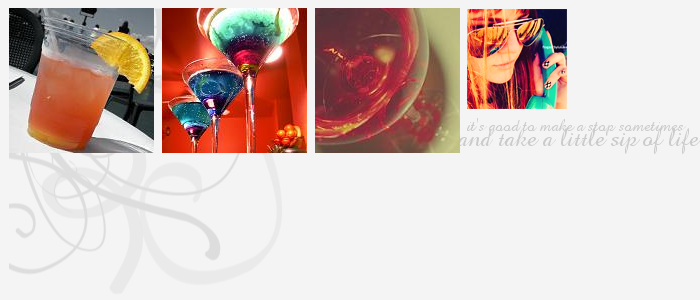 Rainbow Vodka Sprinkles ;
whatsername
justa normalgirl
18teen and exasperated
straightly
her
would crave for [tequilasunrise] or [anyfruitycocktail] in times of depression or upsetness
or craftwork & literature, depending
erratic and admitting it :p
Delectable Martini Chocolates ;
caramellic
mooooovies^
sprees of silliness
music
ology
chocoholic. BIG TIME
DONUTSSS!!!
appley pies~
swing
swings
dance
dance
photographica
laughter loving
makeup-o-matic
love
seeking
no more




animals are the
love
, esp
PENGUINS
Infectious Toxic Kisses ;
Zesty Lemon Slices ;
carmen
fefe
james
joan
kenneth
melody
sawwah
shitzuRAH
tabss
tina
yiwenn
myARTSYthingies
TILATEQUILA
TILA'S HOTSPOT
*she reads-
XIAXUE
Popped Cherries & Lipglosses Lies ;
February 2005
March 2005
April 2005
May 2005
June 2005
July 2005
September 2005
October 2005
November 2005
December 2005
February 2006
March 2006
April 2006
May 2006
June 2006
July 2006
August 2006
September 2006
October 2006
November 2006
May 2007
June 2007
July 2007
October 2007
November 2007
January 2008
February 2008
March 2008
April 2008
May 2008
August 2008
September 2008
October 2008
November 2008
December 2008
Tequila Shots ;
Get a Fortune Cookie for your page!
#2293 on the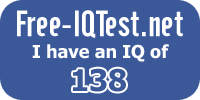 Free-IQTest.net -
Free IQ Test
Dancefloor Anthems ;
give it some time to load. toggle around with the buttons, that might actually help the loading process (and your boredom). turn up your speakers. if you're not gonna stay here for my entries, im pretty sure you will, for the
music
:D and the fortune cookie too :p
BarTENDERS ;
desi
gner.
pic
tor
ial
s.
software.
Emo Quizzes
Friday, October 27, 20068:39 AM
Your EQ is 113
50 or less: Thanks for answering honestly. Now get yourself a shrink, quick!
51-70: When it comes to understanding human emotions, you'd have better luck understanding Chinese.
71-90: You've got more emotional intelligence than the average frat boy. Barely.
91-110: You're average. It's easy to predict how you'll react to things. But anyone could have guessed that.
111-130: You usually have it going on emotionally, but roadblocks tend to land you on your butt.
131-150: You are remarkable when it comes to relating with others. Only the biggest losers get under your skin.
150+: Two possibilities - you've either out "Dr. Phil-ed" Dr. Phil... or you're a dirty liar.

hah i may be stupid intellectually but my EQ is otherwise =]


Your Depression Level: 68%
You seem to have moderate depression.Your symptoms are bad enough that they're effecting your everyday life.You would benefit greatly from professional help.
i guess all those years of
battling it quietly
did
help a lil =]
Your Hidden Talent
Your natural talent is interpersonal relations and dealing with people.You communicate well and are able to bring disparate groups together.Your calming presence helps everything go more smoothly.People crave your praise and complements.
am i
really
like that? cos i'd
love
to be
just like that
=]
You Are A Realistic Romantic
It's easy for you to get swept away by romance... But you've done a pretty good job keeping perspective. You're still taken in by love poems and sunsets. You just don't fall for every dreamy pick up line!
Labels: personality, quizzes, randominity