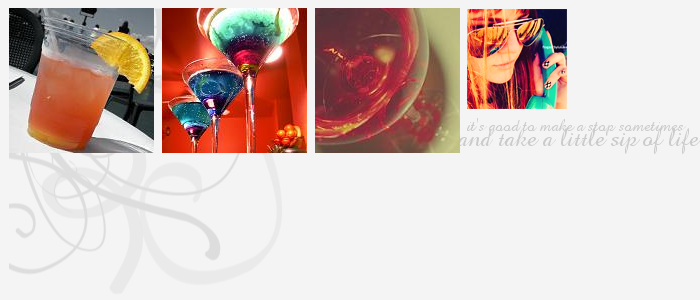 Rainbow Vodka Sprinkles ;
whatsername
justa normalgirl
18teen and exasperated
straightly
her
would crave for [tequilasunrise] or [anyfruitycocktail] in times of depression or upsetness
or craftwork & literature, depending
erratic and admitting it :p
Delectable Martini Chocolates ;
caramellic
mooooovies^
sprees of silliness
music
ology
chocoholic. BIG TIME
DONUTSSS!!!
appley pies~
swing
swings
dance
dance
photographica
laughter loving
makeup-o-matic
love
seeking
no more




animals are the
love
, esp
PENGUINS
Infectious Toxic Kisses ;
Zesty Lemon Slices ;
carmen
fefe
james
joan
kenneth
melody
sawwah
shitzuRAH
tabss
tina
yiwenn
myARTSYthingies
TILATEQUILA
TILA'S HOTSPOT
*she reads-
XIAXUE
Popped Cherries & Lipglosses Lies ;
February 2005
March 2005
April 2005
May 2005
June 2005
July 2005
September 2005
October 2005
November 2005
December 2005
February 2006
March 2006
April 2006
May 2006
June 2006
July 2006
August 2006
September 2006
October 2006
November 2006
May 2007
June 2007
July 2007
October 2007
November 2007
January 2008
February 2008
March 2008
April 2008
May 2008
August 2008
September 2008
October 2008
November 2008
December 2008
Tequila Shots ;
Get a Fortune Cookie for your page!
#2293 on the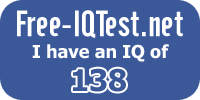 Free-IQTest.net -
Free IQ Test
Dancefloor Anthems ;
give it some time to load. toggle around with the buttons, that might actually help the loading process (and your boredom). turn up your speakers. if you're not gonna stay here for my entries, im pretty sure you will, for the
music
:D and the fortune cookie too :p
BarTENDERS ;
desi
gner.
pic
tor
ial
s.
software.
Five Factor Personality
Thursday, October 26, 20066:29 AM
Your Five Factor Personality Profile
Extroversion:

You have medium extroversion.
You're not the life of the party, but you do show up for the party.
Sometimes you are full of energy and open to new social experiences.
But you also need to hibernate and enjoy your "down time."

Conscientiousness:

You have low conscientiousness.
Impulsive and off the wall, you don't take life too seriously.
Unfortunately, you sometimes end up regretting your snap decisions.
Overall, you tend to lack focus, and it's difficult for you to get important things done.

Agreeableness:

You have medium agreeableness.
You're generally a friendly and trusting person.
But you also have a healthy dose of cynicism.
You get along well with others, as long as they play fair.

Neuroticism:

You have medium neuroticism.
You're generally cool and collected, but sometimes you do panic.
Little worries or problems can consume you, draining your energy.
Your life is pretty smooth, but there's a few emotional bumps you'd like to get rid of.

Openness to experience:

Your openness to new experiences is medium.
You are generally broad minded when it come to new things.
But if something crosses a moral line, there's no way you'll approve of it.
You are suspicious of anything too wacky, though you do still consider creativity a virtue.
am i really like this?
*ponders*
Labels: personality, quizzes, randominity