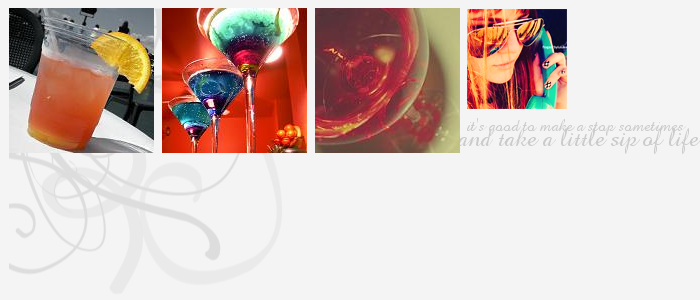 Rainbow Vodka Sprinkles ;
whatsername
justa normalgirl
18teen and exasperated
straightly
her
would crave for [tequilasunrise] or [anyfruitycocktail] in times of depression or upsetness
or craftwork & literature, depending
erratic and admitting it :p
Delectable Martini Chocolates ;
caramellic
mooooovies^
sprees of silliness
music
ology
chocoholic. BIG TIME
DONUTSSS!!!
appley pies~
swing
swings
dance
dance
photographica
laughter loving
makeup-o-matic
love
seeking
no more




animals are the
love
, esp
PENGUINS
Infectious Toxic Kisses ;
Zesty Lemon Slices ;
carmen
fefe
james
joan
kenneth
melody
sawwah
shitzuRAH
tabss
tina
yiwenn
myARTSYthingies
TILATEQUILA
TILA'S HOTSPOT
*she reads-
XIAXUE
Popped Cherries & Lipglosses Lies ;
February 2005
March 2005
April 2005
May 2005
June 2005
July 2005
September 2005
October 2005
November 2005
December 2005
February 2006
March 2006
April 2006
May 2006
June 2006
July 2006
August 2006
September 2006
October 2006
November 2006
May 2007
June 2007
July 2007
October 2007
November 2007
January 2008
February 2008
March 2008
April 2008
May 2008
August 2008
September 2008
October 2008
November 2008
December 2008
Tequila Shots ;
Get a Fortune Cookie for your page!
#2293 on the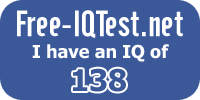 Free-IQTest.net -
Free IQ Test
Dancefloor Anthems ;
give it some time to load. toggle around with the buttons, that might actually help the loading process (and your boredom). turn up your speakers. if you're not gonna stay here for my entries, im pretty sure you will, for the
music
:D and the fortune cookie too :p
BarTENDERS ;
desi
gner.
pic
tor
ial
s.
software.
Keeping myself entertained HA-
Friday, October 27, 200610:04 AM
You Are 56% Brutally Honest
Honesty is important to you, but generally, you try not to be brutal about it. You'll sugar coat the truth when you need to... and tell a white lie when necessary.

looks i have to work on my blatant-ness... =]
You Are 44% Cynical
Yes, you are cynical, but more than anything, you're a realist.You see what's screwed up in the world, but you also take time to remember what's right.
oh yeah thats so ME =]
Your Eyes Should Be

Brown
Your eyes reflect: Depth and wisdom
What's hidden behind your eyes: A tender heart
yes yes my eyes are already
brown
and im
LOVING THEM
=] im proud of my
peepers
=]
The Keys to Your Heart
You are attracted to those who are unbridled, untrammeled, and free.
In love, you feel the most alive when things are straight-forward, and you're told that you're loved.
You'd like to your lover to think you are optimistic and happy.
You would be forced to break up with someone who was ruthless, cold-blooded, and sarcastic.
Your ideal relationship is lasting. You want a relationship that looks to the future... one you can grow with.
Your risk of cheating is zero. You care about society and morality. You would never break a commitment.
You think of marriage as something precious. You'll treasure marriage and treat it as sacred.
In this moment, you think of love as commitment. Love only works when both people are totally devoted.
okay this is like mostly true ha hahee ha =]
Mocha Frappuccino
Hyper and driven, you'll take your caffeine any way you can get it. Frappuccinos are good, but you'd probably chew coffee beans in a crunch!
pass me a mocha frappuccino now! with caramel on the cream please! =]
You Are More Mild Than Wild
You're confident, and you really aren't concerned with how "hot" you are.Other people's ideas of what's sexy don't concern you. And this is exactly what makes you attractive.
and im proud of it =]
You Are a Seeker Soul
You are on a quest for knowledge and life challenges. You love to be curious and ask a ton of questions. Since you know so much, you make for an interesting conversationalist. Mentally alert, you can outwit almost anyone (and have fun doing it!).
Very introspective, you can be silently critical of others. And your quiet nature makes it difficult for people to get to know you. You see yourself as a philosopher, and you take everything philosophically. Your main talent is expressing and communicating ideas.
Souls you are most compatible with: Hunter Soul and Visionary Soul
i'd say this is true too... to some extent...
Labels: personality, quizzes, randominity