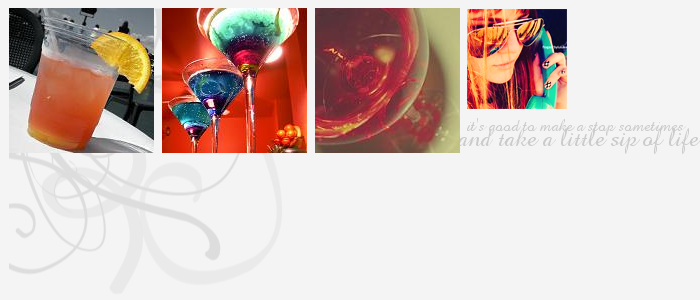 Rainbow Vodka Sprinkles ;
whatsername
justa normalgirl
18teen and exasperated
straightly
her
would crave for [tequilasunrise] or [anyfruitycocktail] in times of depression or upsetness
or craftwork & literature, depending
erratic and admitting it :p
Delectable Martini Chocolates ;
caramellic
mooooovies^
sprees of silliness
music
ology
chocoholic. BIG TIME
DONUTSSS!!!
appley pies~
swing
swings
dance
dance
photographica
laughter loving
makeup-o-matic
love
seeking
no more




animals are the
love
, esp
PENGUINS
Infectious Toxic Kisses ;
Zesty Lemon Slices ;
carmen
fefe
james
joan
kenneth
melody
sawwah
shitzuRAH
tabss
tina
yiwenn
myARTSYthingies
TILATEQUILA
TILA'S HOTSPOT
*she reads-
XIAXUE
Popped Cherries & Lipglosses Lies ;
February 2005
March 2005
April 2005
May 2005
June 2005
July 2005
September 2005
October 2005
November 2005
December 2005
February 2006
March 2006
April 2006
May 2006
June 2006
July 2006
August 2006
September 2006
October 2006
November 2006
May 2007
June 2007
July 2007
October 2007
November 2007
January 2008
February 2008
March 2008
April 2008
May 2008
August 2008
September 2008
October 2008
November 2008
December 2008
Tequila Shots ;
Get a Fortune Cookie for your page!
#2293 on the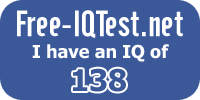 Free-IQTest.net -
Free IQ Test
Dancefloor Anthems ;
give it some time to load. toggle around with the buttons, that might actually help the loading process (and your boredom). turn up your speakers. if you're not gonna stay here for my entries, im pretty sure you will, for the
music
:D and the fortune cookie too :p
BarTENDERS ;
desi
gner.
pic
tor
ial
s.
software.
MORE self-entertainment
Friday, October 27, 200611:08 AM
Your Sloth Quotient: 67%
You're a pretty lazy person, and you relish in your own sloth.While being lazy does feel good, you're missing out on the really good parts of life that take a little work.
yeahs bring on the sloth-ness =]
Your Aura is
Blue
Spiritual and calm, you tend to live a quiet but enriching life.You are very giving of yourself. And it's hard for you to let go of relationships.
The purpose of your life: showing love to other people
Famous blues include: Angelina Jolie, the Dali Lama, Oprah
Careers for you to try: Psychic, Peace Corps Volunteer, Counselor
really
meh?
*ponders*
Your Inner Muse is Thalia
You are most like this playful muse of comedy. Life is all about laughter to you, and you're a natural comic. You make people laugh until their sides split. And you're always up for some play time!
maybe i should name my daughter Thalia...
Your Power Color Is

Blue
Relationships and feelngs are the most important things to you.You are empathetic and accepting - and good at avoiding conflict.If someone close to you is in pain, it makes you hurt as well.You try to heal the ones you love with your kind and open heart.
i seem to be related with many
blue
things...
You Are Ani Difranco!
Honest, real, and well liked. You're not limited by any boundaries."And you can call me crazy But I think you're as lazy as white paint on the wall"
funkiness =]]
Your Mood Ring is

Light Blue
Emotions mixed
Unsettled
Cool

this so describes me please =]
You Are 35% Vain
Okay, so you're slightly vain from time to time, but you're not superficial at all.You are realistic. You know that looks matter. You just try to make them matter less.
Labels: personality, quizzes, randominity