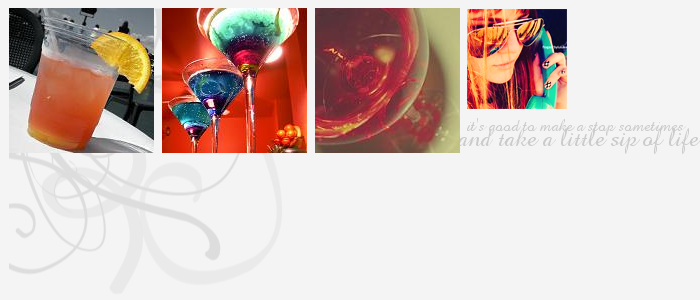 Rainbow Vodka Sprinkles ;
whatsername
justa normalgirl
18teen and exasperated
straightly
her
would crave for [tequilasunrise] or [anyfruitycocktail] in times of depression or upsetness
or craftwork & literature, depending
erratic and admitting it :p
Delectable Martini Chocolates ;
caramellic
mooooovies^
sprees of silliness
music
ology
chocoholic. BIG TIME
DONUTSSS!!!
appley pies~
swing
swings
dance
dance
photographica
laughter loving
makeup-o-matic
love
seeking
no more




animals are the
love
, esp
PENGUINS
Infectious Toxic Kisses ;
Zesty Lemon Slices ;
carmen
fefe
james
joan
kenneth
melody
sawwah
shitzuRAH
tabss
tina
yiwenn
myARTSYthingies
TILATEQUILA
TILA'S HOTSPOT
*she reads-
XIAXUE
Popped Cherries & Lipglosses Lies ;
February 2005
March 2005
April 2005
May 2005
June 2005
July 2005
September 2005
October 2005
November 2005
December 2005
February 2006
March 2006
April 2006
May 2006
June 2006
July 2006
August 2006
September 2006
October 2006
November 2006
May 2007
June 2007
July 2007
October 2007
November 2007
January 2008
February 2008
March 2008
April 2008
May 2008
August 2008
September 2008
October 2008
November 2008
December 2008
Tequila Shots ;
Get a Fortune Cookie for your page!
#2293 on the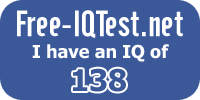 Free-IQTest.net -
Free IQ Test
Dancefloor Anthems ;
give it some time to load. toggle around with the buttons, that might actually help the loading process (and your boredom). turn up your speakers. if you're not gonna stay here for my entries, im pretty sure you will, for the
music
:D and the fortune cookie too :p
BarTENDERS ;
desi
gner.
pic
tor
ial
s.
software.
quiztime!
Monday, November 13, 20062:51 AM
Your Scholastic Strength Is
Deep Thinking
You aren't afraid to delve head first into a difficult subject, with mastery as your goal. You are talented at adapting, motivating others, managing resources, and analyzing risk.
You should major in:
Philosophy
Music
Theology
Art
History
Foreign language
thank you very much i've been considering philosophy/psychology in recent days =]
You Should Be a Song Writer
You have the ability to evoke emotion, tell a story, and hook someone... In a very small amount of words, perhaps with some deft rhyming. Even if you can't write music, you can sure write compelling lyrics. Lyrics so good, people will have them stuck in their heads!
a>
okay i'll go practice soon!!! =]]
You Are 28% Paranoid Schizophrenic
You're pretty grounded, though you have your occasional paranoid moments. Just make sure to ignore those voices in your head!
a>
then what's gonna happen to
kimi
and
saito
???
You Date Like a Woman
According to studies on dating, you date like a woman. You tend to take romance seriously, and you're not really out for a fling.
A mental and emotional connection always comes first for you. And rushing the physical stuff is likely to turn you off.
You're highly selective when it comes to dating, and some may say you're too picky.You know what you want, and when you find it, you're ready to commit.
a>
what can i say? i am a female!
Your Five Variable Love Profile
Propensity for Monogamy:
Your propensity for monogamy is medium. In general, you prefer to have only one love interest. But it's hard for you to stay devoted for too long! There's too much eye candy to keep you from wandering.

Experience Level:
Your experience level is medium. You probably have had a couple significant loves. And you may have even had your heart broken. But you haven't really dated a wide variety of people.

Dominance:
Your dominance is low. This doesn't mean you're a doormat, just balanced. You know a relationship is not about getting your way. And you love to give your sweetie a lot of freedom.

Cynicism:
Your cynicism is medium. You'd like to believe in true and everlasting love... But you've definitely been burned enough to know better. You're still an optimist, but you also are a realist.

Independence:
Your independence is medium. In relationships, you need both "me time" and "we time." You usually find it easy to be part of a couple. But occasionally you start to feel a little smothered.
a>
Your Career Type: Artistic
You are expressive, original, and independent. Your talents lie in your artistic abilities: creative writing, drama, crafts, music, or art.
You would make an excellent:
Actor - Art Teacher - Book Editor - Clothes Designer - Comedian - Composer Dancer - DJ - Graphic Designer - Illustrator - Musician - Sculptor
The worst career options for your are conventional careers, like bank teller or secretary.
a>
thankyou for confirming my suspicions =]
You Communicate With Your Ears
You love conversations, both as a listener and a talker.What people say is important to you, and you're often most affected by words, not actions.You love to hear complements from others. And when you're upset, you often talk to yourself.Music is very important to you. It's difficult to find you without your iPod.
a>
You Are 44% Impulsive
You're quite impulsive, but you never are reckless. You qualify as a very spontaneous person, but you still know how to honor your commitments. And while responsibility doesn't come easy to you, having fun does!
a>
yayness =]
Labels: personality, quizzes, randominity